Dear Family and Friends,
I had an interesting conversation with one of our regular patrons at the family history centre this morning. About every 9 weeks the young missionaries have a transfer day. They get a call from President Patch on Monday evening telling them about their transfer. On Wednesday, the missionaries from all over the mission come to the Hyde Park building, suitcases in hand, meet their new companions and then take off for their new area. Today was transfer Wednesday so the building was filled with all these awesome young missionaries. I was sad to say goodbye to one Elder going home to Lehi, Utah and impressed when I talked to another who just arrived in London from the MTC. Anyway, our Family History patron had just walked through the crowd of missionaries to get downstairs to the family history centre. He said," I see it's the day for your missionaries to come to London". I explained to him what w as going on and then he was curious if transfers would happen to us. So it was an opportunity for me to explain to him about the senior missionary program and how we have the opportunity, after we retire to serve for 18 months. Many of our patrons have expressed to us how wonderful they think this is.
Last Friday we had one of our busiest days since we have been at the Family History Centre. Actually it was busy all week. I guess the news has been getting around that we are movin
g from our South Kensington location while the building is being refurbished. When we are so busy it is harder to give people a lot of individual attention. On Friday two ladies signed in and told me they were from Canada. The older of the two said she had met someone on the bus on the way to the Centre and got into conversation about our Family History Centre. The person told her that if she came we would go out of our way to help her and we wouldn't charge her anything. I didn't want her to be disappointed so I stayed with her for over an hour. Her father had come from England and we were able to find quite a bit of information. I showed her where else she could search and then had to get busy with other patrons. When things started to be a little less busy I was able to go back and help her some more. Both ladies were so grateful when they left. It made me feel good that I was able to help.
One of our regular patrons is an sweet Irish lady who always brings us treats. She has been researching her family for quite some time. She told me a story about her grandmother's aunt who was a Catholic nun. Her name was Sister Elizabeth and she was sent to Galveston, Texas from Ireland to help care for children in Saint Mary's Orphan Asylum. The orphanage stood on the beach and was home to 93 children and 10 nuns. On September 8, 1900 one of the most destructive hurricanes of all time struck Galveston Island and the coast of Texas. Sister Elizabeth had gone to the city that morning before the storm struck to get supplies and insisted on returning even thought the storm had begun.The nuns took the children to the top floor of one of the dormitories and sang with them. Over 6000 people died including Sister Elizabeth and the other nuns and children in the orphanage. Three boys survived. Such a sad story but such a touching story to have as a part of a family history. It's good to know the stories of those who came before us. I found pictures of the orphanage on the internet.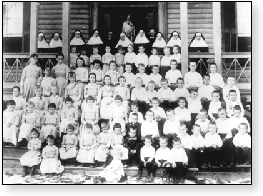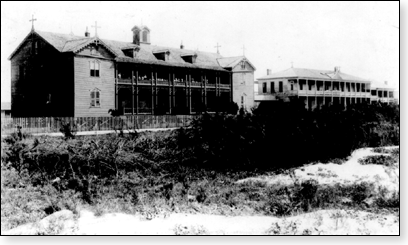 The Crooked Town
On a recent P-day we went to Lavenham, Suffolk, the 'crooked town'. I love what one tourist guide says, "There's barely a straight line in the whole of topsy-turvy Lavenham, eastern England's loveliest medieval wool town." It was so worth going but very hard to get there. We went with John and Barbara Robertson. We started out by taking the bus to South Kensington, then the Piccadilly Tube Line to Holburn, Central Tube Line to Liverpool Station and then the National Express over ground train to Marks Tay, then another train to Sudbury and then a bus to Lavenham. I am never going to take a car for granted ever again in my life! We are getting good at this public transportation! Suffolk is in purple.
If you have seen either of the Harry Potter and the Deathly Hollows movies you might recognize this picture of Godric's Hollow: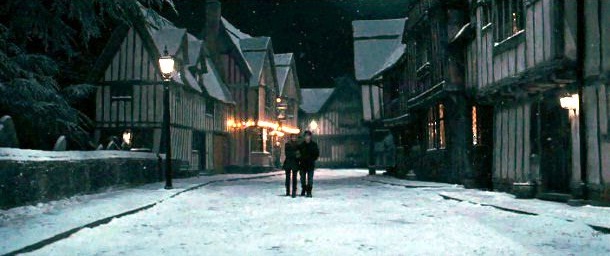 This was shot in Lavenham. I read that they filmed the street scenes in secret and then superimposed the people so Emma and Daniel weren't really there. Here are some of my pictures of Lavenham.
As we rode the bus on the last leg of the journey to the crooked town, one of the passenger's, the man on the bench, got into a conversation with John Robertson. The man wanted to let us know there were some good pubs in his town. When John told him that we didn't drink he was at a loss for words. We got the impression that they didn't have very many American tourists. After being in London for so many months it's interesting for us to be able to see a rural part of England.
In 1524, Lavenham was the 14th wealthiest town in England because of it's wool. From Lavenham and the surrounding wool towns comes the saying "dyed in the wool" which refers the fact that the wool was dyed before being woven into broadcloth.
It's unbelievable that we have been in England for 7 months! We miss our sweet family very much but know we are where we are supposed to be at this time. When we were talking on Skype the other day, 5 year old Ryan said, "Grandma are you at home or on the mission?"
Happy school days to our grandchildren, Matthew, Emily, Elizabeth, Spencer, April, Ryan, Avery and Carter, who are on year round school and beginning another school year. Do your best!
Our love to all!
Love, Elder and Sister Fugal (aka Cheryl and Ken, Mom and Dad, Grandma and Grandpa)